The reason for choosing us
TOP
>
The reason for choosing us
The reason for choosing us
Rather than yielding a good return, properties with stable asset value are recommended!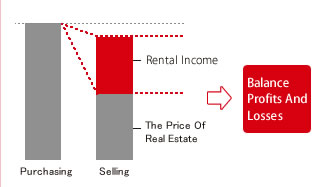 Our company do not pursue investment yield, but we recommend products that will be remain stable for a long term.
Since there is a "risk of falling in price" for real estate investment, the income from sale disposal will be confirmed immediately.
Property acquisition cost in real estate is the principal of the deposit. The yield is the part corresponding to interest on deposits.
No matter how great the interest is, if the principal is unstable, the assets remain in hand will decrease.
From the "stability of the rental income", "transition of the transaction price" and "apartment grade and repaid status",
our company will calculate the suitable price, and offer the products that are recommended on both sides of the rental income and asset value.
Example


Only income-producing properties that are carefully selected by our own assessment criteria will be provided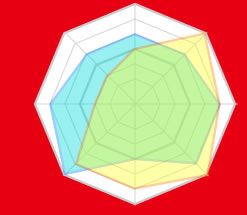 To reduce the largest risk in rental management – "vacancy risk",
our company investigate and calculate all the data of each mansion – "area", "distance from train station",
"living environment", "shared equipment", "ancillary facilities", "repair situation", "apartment grade", "peripheral rent market" and etc.
Also, our company will also ensure stable profitability during the vacancy period due to construction work, after targeted tenants are decided.

"Because it is Redhorse therefore it is possible" Support System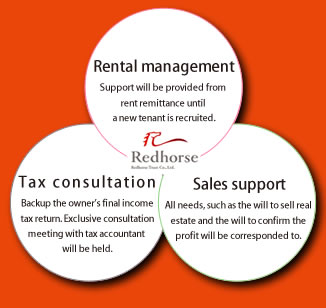 Our company deals with the purchase, sale and rental management of classified apartments
with the consistent system of "reliability, safety and staibility".
Our company contributes to the maximization of the interests of all owners in all aspects with our reliable support system;
even for the owners who participate in real estate investment for the first time.
We are professionals specialized in dealing with real estates in Sapporo.
We deliver safe and reliable information, and would like our customers to learn more about Sapporo.
Our company will also provide our best support in realizing a stable real estate investment.